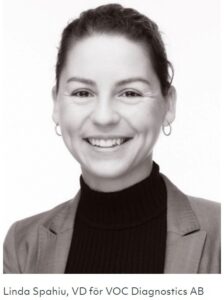 STOAF III SCITECH INVESTS IN VOC DIAGNOSTICS – HIGH-PRECISION ELECTRONIC NOSE FOR OVARIAN CANCER DIAGNOSTICS
Stoaf III SciTech, Almi Invest and others invest 4,8 MSEK in VOC Diagnostics. It is part-financing of a further development and testing of its unique sensor-equipped instrument used for diagnosing ovarian cancer.
VOC Diagnostics has recently employed Linda Spahiu as its CEO. The financing is to be used to complete the instrument for clinical use, clinical studies and CE certifcation.
"VOC's method and diagnostic instrument provides a huge potential to contribute to improved health for patients with ovarian cancer, both in Sweden and globally. Stoaf's ambition is to contribute with both capital and competence to the success of the company and to a better life to the affected women", says Claes Post, responsible General Partner for Stoaf's Life Science investments.