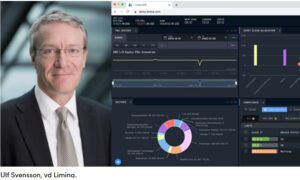 STOAF III SCITECH INVESTS IN FINTECH COMPANY LIMINA
STOAF III SciTech and Almi Invest invest in a first tranche 3 MSEK each in Limina, Stockholm. It has developed the asset management market´s first complete cloudbased asset management system for hedge and mutual funds. In the same financing round of 15 MSEK participates also Vidici II and Justin Wheatley – the founder of his recently sold listed StatPro participated among other participants.
– LImina has a great opportunity to accelerate both sales and the continued development of the functionality of its system Captron. The company has the potential to reach a leading global position says P A Wärn, General Partner at STOAF who will take a seat at the board of directors.